Please call our toll free line and give us your preferred dates and Frontier destination. Call Toll Free at 800-454-7644 or email vacation@ogokifrontier.com
Deposit
Fishing Trip: $350
Hunting Trip: $700
Please Note: Deposits are non refundable and non transferable.
Ogoki Frontier Boat Form Download
Pleasure Craft Operator Cards are now required for all Canadian customers. No Card? We can take care of this requirement at the time of check in for both US and CDN customers.Boat Safety Checklist Form
Confirmation Email
You will receive a Confirmation Email for your trip. This is a complete record of where, when, who, how many and how much. Even the tax component is shown, with any special requests. Please verify the accuracy of your reservation details and reply so we know it got to you.
Problems/Re-bookings
If something happens and you can't make it, we will be happy to re-book you, for a time later the same year or next. Rescheduled trips prices at prevailing rates.
Final Settlement
Final settlement of the account is made prior to departure by cash, Visa, Mastercard (with 3% surcharge on credit cards only), travelers cheques, cashiers cheque or money order.


Packing for Your Trip
On average, you are allowed 140 pounds of gear per person on fishing trips and 190 pounds for hunters. This may vary depending on conditions. See Aircraft Weight Guidelines below.
Aircraft Weight Guidelines
| Airplane | Passengers | Weight |
| --- | --- | --- |
| Beaver | 2-4 | 1300-1400lbs. |
| Otter | 5-8 | 2400-2600lbs |
Gross weight includes passengers. Weights are approximate only. Will vary with distance & weather conditions.
Crossing the Border into Canada
For the majority of Ogoki Frontier customers, the border crossing is at Pigeon River Ontario / Grand Portage Minnesota. For information on what you can bring, call Canada Customs (807) 964-2093. We encourage you to phone ahead to be sure. If you are flying info Canada - Canada Customs 1-888-CAN-PASS.
While various forms of Identification are technically acceptible for U.S. Citizens to enter Canada you will need a passport to re-enter the United States!
What Should I Bring?
Two Rods
Rain Wear
Dish Soap
Fly Repellent
Tackle Box
Life Jacket

Refreshments
Garbage Bags
Landing Net
Mosquito Coils
Towels
Food

Filet Knife
Sleeping Bag
Pillow
Camera
Toilet Paper
Accommodations at Ogoki Frontier (prior to morning departure)
Ogoki Frontier has limited accommodations for vacationers to stay at the base in one of 3 guest cabins.
We are pleased to provide complimentary coffee, tea, hot chocolate and cubed ice. We also provide free use of a boat and motor (on Mattice Lake only) for releasing or practicing your hook set the day/evening prior to departure. Boat quantities are limited.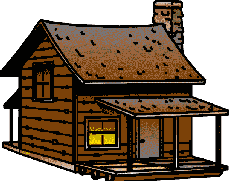 Click here for more photos of our Guest Cabins
Armstrong
Armstrong is 4 miles north of our base on Hwy 527. There are two restaurants and a general store selling groceries as well as beer, alcohol and wine. Gasoline and diesel fuel also available.
Parking
Parking is free at the Frontier base and is safe, secure and well lit.
At Ogoki Frontier we pride ourselves in providing a worry free vacation and doing everything we can to make your hunting or fishing trip enjoyable and comfortable.

Take the time to compare, here are some areas we think are important. Before you buy a hunting or fishing trip from someone else we suggest you do a thorough comparison.

Ogoki Frontier is known for it's customer service.