FLY-IN FISHING: ARMSTRONG ONTARIO - Trophy Country!
FLY-IN FISHING RATES
Canada Fly-In Fishing Rates 2023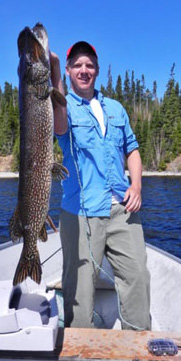 Prices for All Lakes

Duration of Fishing Vacation

3 days

4 days

5 days

6 days

7 days

Fishing Trip Party of 2-3

$1295

$1355

$1415

$1475

$1535

Fishing Trip Party of 4-5

$1195

$1255

$1315

$1375

$1435

Fishing Trip Party of 6+

$1155

$1215

$1275

$1335

$1395
* Fishing rates in US Funds per person, taxes and licences extra

**Family Fishing Vacation Rates: Youth 15 and under 50% off with 2 adult fairs minimum

*** Youth 16-18 25% off
Licences online: www.huntandfishontario.com Available at the Base if unable to go online.
Important Notice

3% surcharge for any credit card use (deposits and trip settlement)
Applicable taxes extra
Prices may change without notice.
Prices are based on 2 people per boat
Personal cheques for deposit only For trip settlement, cheques must be received 45 days prior to departure

Thank you
Cancellation Policy
Deposits: $350 fishing trips or $700 hunting trips are non-refundable and non-transferable to the following year

Whether you're going for trophy Walleye, huge Northern Pike, Lake Trout, Brook Trout or Sturgeon, we have the Fly-in fishing trip for you. Ogoki Frontier is located in the heart of Ontario's boreal forest. it's Ontario Canada pike and walleye fishing at its best!
At Ogoki we believe in Family Fishing Vacations! Check out our family rates with discounts up to 50% discounts off of standard fares for kids and youth.
Ogoki Frontier Fly-In Fishing Rates Armstrong Ontario Canada
If you have tried Sunset Country - Red Lake, Ear Falls, Sioux Lookout, Vermillion Bay, Minaki, or Kenora - And your ready for something different then have a look at the Ogoki Reservoir, Wabakimi Park and the packages available out of Armstrong Ontario. We know you will be impressed with our beautiful Ogoki Frontier!