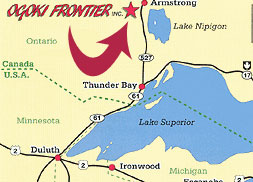 Click to enlarge

Proceed North on Highway 61 from Duluth to the Canadian Border. After clearing Customs, continue on Hwy 61 to the city of Thunder Bay. Hwy 61 ends at the junction of Hwy 11 & 17 in Thunder Bay. Continue straight which will be Hwy 11/17 East. (Signs will indicate mileage for Sault Ste Marie, Cochrane, etc.)

You will bypass the city's downtown area on this highway (Thunder Bay is on the right-hand side). If you need gas you should stop in on Arthur Street or Red River Road. The last intersection before Hwy 527 will be Hodder Ave (now sporting a new bridge over the hwy).

A short distance from Hodder Avenue interchange, you will see the Terry Fox Memorial Lookout on your left. This is a rest area and tourist information centre that might be of interest to you.

The next intersection will be Hwy 527 North and is extremely well signed. Turn NORTH onto Hwy 527 to Armstrong.

If you are coming from the East take Hwy 17 (becomes 11&17 at Nipigon) to Hwy 527. Turn North.

From this point, you are about 2 1/2 hours from the Ogoki Frontier. Our base is 4 miles south of Armstrong.

Gas/Diesel is available in Armstrong.